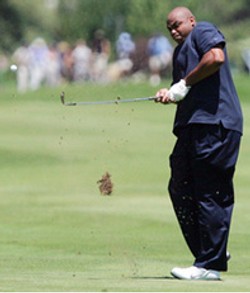 This post about slicing and blocking in golf is in response to several requests related to a previous golf lesson video on my YouTube Channel about how to stop coming over the top. It is quite common to fix one problem in the golf swing like "coming over the top" on the downswing, and then start a new problem like blocking or pushing the golf ball.
These new missed shots may be straight pushes or even push slices. Blocking and pushing the golf ball stems from the change in clubface position when dropping the club farther inside. Basically the clubface is more open relative to the ball caused by dropping the club farther to the inside on the corrected, shallower downswing plane. When the shaft drops behind the player onto a flatter plane, it leaves the clubface facing upward toward the sky half way down.
If the player is not aware of or not expecting that change, it can be frustrating to watch every shot go right after supposedly getting on the ideal swing plane. The secret is to make the necessary adjustment in wrist and clubface action to deal with the new flatter plane.
A key checkpoint is the half-way position in the downswing once the hands are about waist high. It is imperative that the right palm is beginning to face down as the back of the left hand is also facing down toward the ground. This is part of the infamous pronation and supination referred to in descriptions of Ben Hogan's downswing and impact positions.
Picture turning your watch face down toward the ground during the downswing, assuming you are a right handed golfer wearing a watch on the left arm. Another way to see it and feel it is to turn the knuckles of the left hand downward so they face the ground and are essentially out of view at the waist-high position coming down.
This move will square up the face quickly to deliver a solid blow at impact using the newly onplane swing. Just remember, when you turn the knuckles down, the shaft cannot be allowed to kick outside or you will be  over-the-top again on an outside/in swing path that may shank or pull the ball.
Watch the golf video lesson below to Get Hermanized and learn how to stop blocking and avoid the slice and push shot in golf. Enjoy … and post your comments.