Online Golf Lessons & Video Golf Swing Analysis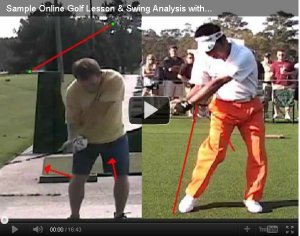 If you can't get to Herman Williams for a private lesson, you can still get Hermanized with Online Golf Lessons.
Knowing that so many golfers don't have the opportunity to see Herman for private lessons, online lessons are now available to provide online golf instruction on a limited availability basis. Herman personally does all of the video swing analysis.
Click to View a Sample Online Golf Lesson given by Herman
Steps to Getting Your Online Golf Lesson With Herman
1. Create Your Golf Swing Video

2. Upload Video to YouTube, Google Drive, DropBox or Email Raw Video File

3. Pay for Lesson by PayPal
4. Email the appropriate video links or video file attachments for review
Once all four steps are completed, Herman will email you to confirm that your video has been received and is in line to be evaluated.
Online Golf Lesson Pricing
Personalized video golf swing analysis from Herman – $75.00
Follow these detailed steps for an Online Golf Lesson with Herman
Step 1: Create Your Golf Swing Video
Capture one swing each with a mid-iron & driver from the "front view" (FV) and from the "down-the-line" view (DTL). Back view behind the player is helpful if you can get it, but not required. Also get a close-up shot of your grip using video or a still photo. Be mindful of your video length. Video creates very large file sizes – swings should ideally be less than 2 seconds each with very little extra film time if possible and each swing should be a separate video clip. Also take care when recording your swing to ensure the best results for the online lesson. The better your video quality, the better your analysis will be. Camera positioning, lighting, shutter speed, etc. are very important.
If you are filming with a mobile phone, turn the phone horizontally into "landscape" mode to get the best video for golf analysis. Filming with phones in a vertical position leads to tall, skinny videos that leave too much space in the foreground making and make the golfer lok like an ant in the distance. This makes it difficult to get good swing details and sometimes fails to keep the arc of the clubhead on camera throughout the swing.
Click proper camera set up for a video golf lesson for a video tutorial about how to film a golf swing.
Step 2: Upload Video to YouTube, Google Drive,or Dropbox or Create a Video File for Emailing

You can "Google" instructions for YouTube, Google Drive or Dropbox setup and upload if you don't have an active account. If you are attaching raw swing files to email, keep in mind file attachment sizes are limited to 10 -25 mb by most email providers and may require file conversion or compression to fit as an acceptable attachment to email. Double check the links to any videos to be sure they work … you would be surprised at how many bad links we receive, which just further delays the process.
Step 3: Payment via Paypal or Credit Card

We are only processing payments through PayPal, but you are not required to have a PayPal account to do so. PayPal still allows you to bypass the account setup & login and pay by credit card using their secure servers. Go to www.paypal.com for more details or to open an account.
Payment for online lessons will appear on your credit card statement as "little genius" going to Little Genius Marketing, LLC, the parent company for HermanWilliamsGolf.com.
Pay for an Online Golf Lesson: $75.00
Step 4: Contact Us by Email with Your Lesson Request
Once you have completed payment and uploaded your video to YouTube or one of the file sharing sites or converted the file for emailing, please email us the video attachment or the appropriate access links to the following GMail address:
hermanwilliamsgolf [at] gmail [dot] com
*Be sure to include "online lesson" in the subject line.
Include a short description of what you would like Herman to look at for your lesson. Just give a brief explanation of what you struggle with, what you are working on, shot patterns (left, right, hi, lo, etc.) typical scores, how long you have played, any physical limitations you may have and which hand is your dominant hand. (i.e. Are you right-handed but playing left-handed golf or vice versa?)
Your completed analysis will be sent back to you as an unlisted YouTube video which only you have the access link to unless you choose to share it with others. Normal turnaround for online lessons is about one week but is also dependent on the number of customers already inline.
Pay for an Online Golf Lesson: $75.00