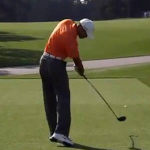 Great slow motion golf swing video of Tiger Woods, Rory McIlroy, Dustin Johnson and others is here. Just got back from the 2013 Masters Practice Rounds. What a great time at Augusta National. The weather was a perfect … 80 degrees by mid afternoon, sun was out in full and no wind to contend with. Just a great day to be playing golf or watching golf.
I was able to get some great video footage of top players like Tiger, Rory, Bubba Watson, Dustin Johnson, Rickie Fowler, Hunter Mahan and many more. Almost all of the golf swings are filmed in super slow motion at 120 frames per second so you can really get the detail of what is happening in their swings.
There is also footage of different parts of the course and something unique this year – I was able to get down to the 16th hole and film a couple of players skipping shots across the pond at the par 3. This is an annual ritual in the Masters Practice Rounds and the crowd really gets involved. In fact, it's kinda funny … the biggest roars all day in the practice rounds are when a player gets the ball to skip all the way across and onto the green.
I also managed to get footage of the youngest player to ever play in the Masters, 14 year-old Tianlang Guan of China. He played his practice round with none other than Tiger Woods and Dustin Johnson. What a contrast … the 2 longest hitters out there playing with the youngest guy in Masters history. It was quite a show.
I'll put together a full list of players I filmed as I get more time and eventually hope to post individual links to their swings so you can just go look-up the player you want to watch. Until then, enjoy this 30-minute YouTube Video of the 2013 Masters Practice Rounds. – Herman